Budget: start 400 baht
So first of all if you are a lady you will not get an entertaining massage so just relax and and be picky.
How to choose a good massage place I will explain below.
There are numerous massage shops in Bangkok (sometimes 4-5 shops in the same building) which offers variety of massages. Some of massage will be medical (10%), some relaxing (50%), and some entertaining (40%).
The most common mistake about choosing the place to do massage is that people try to choose the nice shop instead of choosing the nice masseur.
So about choosing the shop:
If you are going to do massage once a visit in Bangkok, you want just medical and classic one – go to reclining Buddha temple – Wat Po, they have oldest international massage school you will get perfect service.
If you going to do massage at least several times per week you need to find some convenient location.
So how to choose the shop:
How shop looks like?
A. Newly renovated modern style (plastic doors and furniture from local superstore) – ignore it it means it is opened less than 1-2 years, most of stuff just hired and no discipline among them. You will never get what you expect
B. Newly renovated Thai style (dark brown wooden furniture, carpets and mats on the wall) – if you go there take ONLY foot massage, for thai and oil you need experienced masseur

C. Old renovated modern or Thai style – check if it looks clean inside. If it is definitely go to that place (it should look very poor but clean)

Which colors are used to decorate the shop?
A. White, yellow, brown colors – this shop does not aim happy ending like main service
B. Purple, pink (for lady massage), green, blue, orange (for men massage) – this colors tell that masseur has a good right to be naughty
How the staff dressed up?
A. Staff dressed up in usual every day clothes (t-shirts, jeans etc.) – avoid that shop, the result is too random
B. Staff dressed up in linen classic uniform – this shop target medical/relaxing massage like a main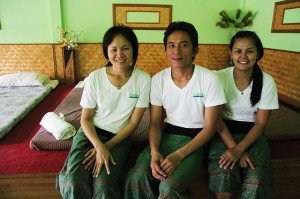 C. Staff dressed up in modern uniform, or mixed (mostly it will be casual trousers + t-shirt from massage shop, or classic linen trousers + casual t-hirt) – this shop main aim is entertaining you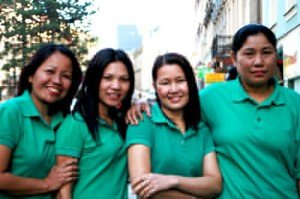 What is the shop price range?
A. Place pretends to be fancy – prices above average (foot/thai massage 300+ baht per hour, oil massage 500+ baht per hour) – avoid it it will never give you anything you want to
B. Place with average pricing (foot/thai massage 200-250 baht per hour, oil massage 300-400 baht per hour) – the right choice
C. Place with low pricing will mostly have stuff with no experience
Where is the shop located?
The best massage you will get not in a very popular places where are masseurs are terribly tired, and not in the middle of nowhere where masseurs work because they have no place to go. The best one will be on the second lane of the houses – not on the main road but still close to popular places
How disciplined stuff is?
1. Staff is smoking outside or sleeping the way you can see it – don't go to that shop
2. Staff is sitting outside friendly and inviting – OK
The stuff which picked you up have to make sure you sit, you take off your shoes and feel comfortable before you go to the massage place, if it is not like that – better change your mind
Choosing the type of massage
Foot massage – take it if you want to kill some time during hot hours outside
Thai massage – if it is good you will feel like somebody crack your bones is like small work out, in regular massage shop it does not mean anything relaxing or entertaining included.
Oil massage – relaxing and sometimes entertaining, the most favorite for masseurs to do because more options.
So resume is if masseur tries to entertain you during Thai massage – you pick up the wrong one.
Entering the massage shop
You have to make stuff understand very clear what type of massage you want to have
I offer 2 ways of telling
1. I want ONLY Thai massage for 2 hours
2. I want oil massage with young lady or young boy 2 hours in a Private Room
Using any other words are not recommended, mention any naughty content as well, it piss off Thai people.
How masseur tries to seduce customer for entertaining process
There is a one type of men all masseurs don't like a lot: men who will come for 1 hour of Thai massage (not 2 hours of oil) and will try to behave themselves naughty to the masseur
The will of entertaining you during massage completely depends on masseur and how he/she likes you
How they show that they are ok to do something special to you:
There will be a moment when masseur massage your hands so if he or she wants to give you more after they will pull your hand really close to their body, lady will do the way that you can feel her breasts or nipples with your fingers, boy will do the way you can feel his important parts. So if you touch it yourself – you are in game (additional charges can apply). The second time they can check you during massaging your legs when the big finger of masseur suddenly will touch you over there.
Don't expect to have real anal or vaginal action to happen (for that search outside)
Do not try to kiss the masseur or convince masseur to play with you (it is very rude according to Thai culture). If they want to do they will do themselves
Normal tip range for 2 hours massage in Bangkok:
Only foot/Thai massage: 100-200 baht
Oil massage with young lady or young boy in a Private Room: 200-500 baht
Resume:
1. If you want to try just real Thai massage once – go to Reclining Buddha Temple (What Po)
2. If you want to find a place for regular relaxing medical massage choose a shop which is not on the main road but close to it, shop should look like it was renovated in brown colors long time ago but clean, stuff should be dressed up in original linen uniform, be friendly at the entrance; you should tell them that you want ONLY Thai massage 2 hours
3. If you want to have some entertaining choose a shop where stuff wear casual trousers and t-shirts tell them very clear that you want to have oil massage with young lady or young boy for 2 hours in a Private Room