Budget: 300 baht per person
Address in Thai: ตลาดน้ำบางน้ำผึ้ง ตำบล บางกอบัว อำเภอ พระประแดง
Location: See Map
GPS coordinates: 13.6788158, 100.5721903
Bang Krachao – Jungle and local market in the middle of Bangkok
Things to experience:
1.Local lifestyle
2.Exotic fruits and drinks at the market
3.Cycling
Bang Krachao is a huge marsh area in the center of Bangkok with extremely local lifestyle and culture. There is no skyscrapers – just jungle, marsh, river and locals.
How to get there:
Best time to go: Saturday or Sunday at 8 am
A.Take a taxi to Klong Thoei Pier more known like Wat Klong Thoei Nai – show this to a taxi driver วัดคลองเตยใน From my place is just 60 (!) baht
B.Find the entrance gate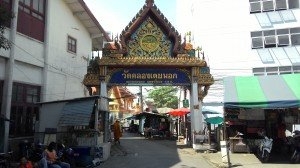 C.Look for the boat. Cross the river (boat price 10-20 baht per person)


D.On the other side you will be offered to take bicycles for hire if you want to go cycling or motorcycle in the yellow jacket if you want to go to Honey Market. Our aim was the honey market so we took the motorcycle to Talad Naaaam ตลาด น้ำ. Motorcycle price is 30 baht per person per ride.


E.And here comes the market with a very common question "What the _ _ _ _ is it?"